RespoKare Anti-Pollution Mask Launched in India
The only mask that protects from both PM 2.5 particles and toxic gases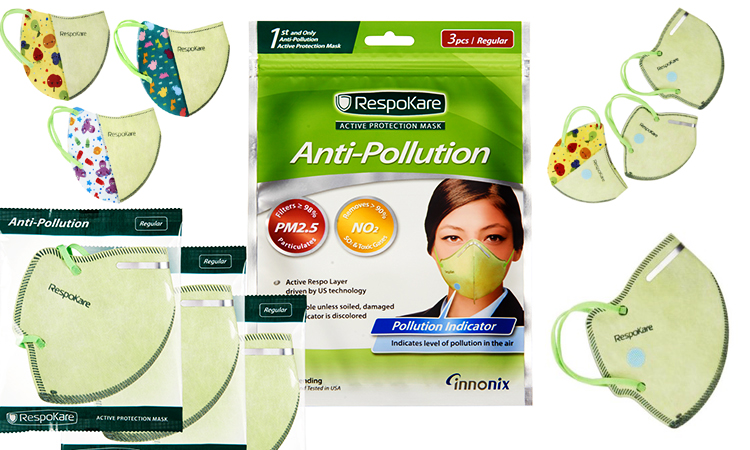 Clean Air Store, a pioneering e-commerce portal providing innovative products and solutions to protect from both indoor and outdoor air pollution, today announced the launch of RespoKare, a reusable and highly effective anti-pollution mask.This is the only mask in the market that protects the wearer from both PM 2.5 particles and toxic gases like NO2. The RespoKare mask also features a proprietary "Pollution Indicator" that indicates level of NO2 gas that the wearer has been exposed to.
The RespoKare Anti-Pollution Mask is the first personal protection product with the capability to neutralize hazardous oxidizing gases in the air.Designed with built-in N98 and activated carbon filter, the mask comes with a 5-stage filtration mechanism which allows wearer to breathe cleaner air, while the two Filtration layers filter ≥98% PM2.5 particulates, its Active Respo Layer neutralizes > 90% toxic gases such as Nitrogen dioxide (NO2) and Sulphur Dioxide (SO2). The Unique design of "NO2 Indicator System" allows easy identification of the level of NO2 in air pollution, and also a mean to indicate the longevity of the mask when in contact with air pollutants. The proprietary pollution indicator changes colour gradually from natural off-white to dark brown depending on varying levels of exposure to toxic gases like NO2 and SO2. This allows the wearer to replace their mask based on the colour change.
Commenting at the launch of RespoKare Anti-Pollution Mask, Ms Shivani Gupta, Founder of Clean Air Store, said: "UltrafinePM2.5, PM10 particulatesand toxic gaseswhich remain suspended in the air and enter the respiratory system with inhalation cause a host of complications of both pulmonary and cardiovascular nature. We want people to better understand the quality of air they breathe day in and day out during regular outdoor work, travelling on 2-wheelers or even health based activities like cycling, jogging and walking.In order to address these unfavourable effects of air pollution in India, this new variant of anti-pollution masks would keep you protected. Brilliantly designed, this stylish mask helps you combat the alarming rate of outdoor air pollution."
According to latest research, India is home to 13 of the 20 most polluted cities in the world causing some 1.1 million premature deaths in 2015 by dangerous fine particulate matter (PM2.5).With guaranteed efficiency, RespoKare is a re-usable mask that has the capacity to capture pollutants present in the air we breathe. The masks also come with an adjustable and comfortable nose band for the perfect fit, to ensure no leakage of air. This mask can block particulate pollutants such as dust, pollen, PM 10, PM 2.5, microbes, toxic gases and smoke from entering our body, thus proving to be an effective tool for long-term health and well-being.
RespoKare is priced competitively at Rs. 399. Available on the company's retail site – cleanairstore.in, all leading pharmacies and convenience stores in Delhi NCR, this mask facilitates in breathing clean and pollution free air, thus ensuring a healthy life.
About Clean Air Store:
Clean Air Store is a pioneering ecommerce portal exclusively dealing in affordable products and solutions for combating air pollution. Through our offerings, we are looking to protect our patrons from the perils of air pollution whether they are outdoors, in their car, or in their home/office. Our aim is to educate the masses about the perils of air pollution and becoming a one stop portal for consumers who are looking to safeguard their families.
Rajesh Yadav